****************SHOW NOW CONCLUDED***************
ERIC ANDERSEN & BEN REEL BAND UK TOUR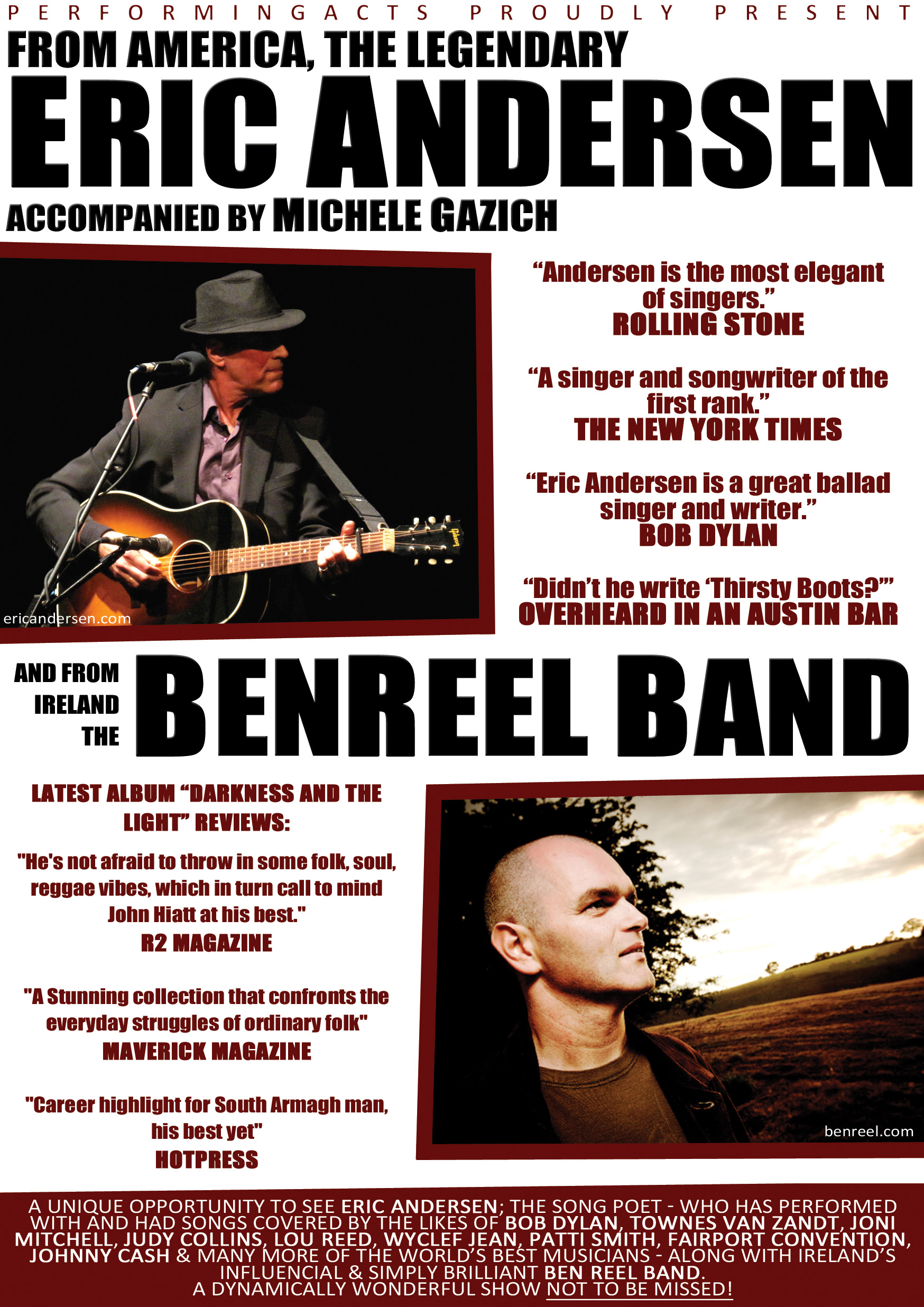 A unique night's entertainment with legendary Eric Andersen & Ireland's best Ben Reel Band.
Superb Review:
Tuesday 15th April
Recognised not Discovered by Rosa Redoz
'It's Tuesday evening in Watford, think about it.' said Eric Andersen, sounding as surprised as we were to be in a Victorian pub on a fine April evening, being serenaded by Patti Smith's ex beau and Albert Camus' centenary composer.
Accompanied by the stunning Michele Gazich on violin, Andersen performed a wonderful 10 song set including his Bob Dylan recorded 'Thirsty Boots' and the divine ballad 'Violets of Dawn'.
Even the sound check, after a brief but rocking few songs from the great Ben Reel Band, silenced the Newcastle Brown Ale swilling clientele. There was a power and grace in Andersen's delivery that promised us a special set.
Opening with Dirty Boxcar Wall with Andersen on acoustic and the whooping syncopation of Gazich on violin he went on to the country rock and rhythm of 'Dance of Love'. The vivacity of the lyrics were balanced by the elegant flights of fantasy of the violin runs.
His hit song, 'Violets of Dawn sounded like an old Irish love lament. One wiser than I, wrote that we recognise rather than discover what we love. The imagery of this song poet's words are worthy of the pastoral musings of Keats or Clare.
"Before the flashing cloaks of darkness gone
Come see the no colors fade blazing
Into pedal sprays of violets of dawn"
His voice is strong and tuneful and Michele Gazich's fills were generous. They are a lovely team.
Andersen mused on the vivid red moon of the previous night which led to the melancholy 'Wind and Sand'
"Rain and wood and fire and stone
magic all across the land
Seasons come and times will go
right through your hand,
like wind and sand"
Played on the keyboard, embellished with fine fiddle trills this mortality lullaby transfixed the audience.
The song ended to the beat of silence that greets a great performance when the audience hears what is not; when art ends.
'Blue River' then gave us an uplifting spiritual lilt.
"Blue River keep right on rollin
All along the shore line
Keep us safe from the deep and the dark
Cause we don't want to stray too far"
Accompanied by the Stephan Grappeli soaring octaves of Michele Gazich; an Italian poet and musician who brought a vivid Mediterranean spirit of life to the set.
The gospel chords took us down to the Mississippi.
'Is everyone okay?' Ansersen asked.
We were.
The mood was then brought up and down by the next 'Blues'.
'Blues at my window cut a shadow across my path
My mind it feels so heavy, my shoes are made out of lead.'
We rocked along with the blues picking and the pizzicato plucking of the violin.
Alone at the keyboard, Michele Gazich then performed: 'a short song because life is short…………it's about drunks who die at the right time.'
A klezmer groove contrasted with a nursery rhyme tune, reminiscent of Brecht or Weil.
'the same old life like a pillow.'
A bit of wry humour to contrast with the ensuing high emotion.
Andersen told us they had travelled by ferry and car that day from the North of Ireland. Through Paris and Potugal the previous week. Distances which are modest in American terms but on congested and narrow European roads, arduous. Fortunately for America he will be there soon.
The maudlin and beautiful 'Salt on your Skin' was next;
'I been so many places where do I begin
Soon as it's over it starts up again
All I remember of you as the memory grows thin
Are the tears in the dark and the salt………..on your skin.'
And his heartfelt thanks to the discreet audience's warm response before the soaring power of 'Thirsty Boots'
His young old voice sailing into powerful harmonica and off we flew.
'You've long been on the open road you've been sleepin' in the rain
From dirty words and muddy cells your clothes are soiled and stained
But the dirty words and the mud of cells will soon be judged insane
So only stop and rest yourself and you'll be off again
Oh take off your thirsty boots
And stay for awhile
Your feet are hot and weary from a dusty mile
And maybe I can make you laugh
And maybe I can try
Lookin' for the evenin'
And the mornin' in your eyes
Then tell me of the ones you saw
As far as you could see
Across the plains from field to town
Marchin' to be free
And of the rusted prison gates that tumble by degree
Like laughing children one by one
They look like you and me'
We applauded his shamanic power as a great song poet to transform a piece of time:
As Eric Andersen said;
'It's a Tuesday evening in Watford, think about it.'
PERFORMANCES:
Tuesday April 15
9:00 PM Show (Doors open 8:00 PM)
The Horns
1 Hempstead Rd
Watford
Hertfordshire
WD17 3RL
Phone: 01923 225020
www.thehornswatford.co.uk

Wednesday April 16
8:00 PM Show (Doors open 7:30 PM)
Hare & Hounds
106 High St
Kings Heath
Birmingham
B14 7JZ
Info: 0871 220 0260
Phone: 0121 444 2081
Tickets available at:
www.seetickets.com
www.theticketsellers.co.uk
www.wegottickets.com
Venue website:
www.hareandhoundskingsheath.co.uk

Saturday April 19
8:00 PM Show (Doors open 7:45 PM)
Artrix
Slideslow Drive
Bromsgrove
B60 1PQ
Box Office: 01527 577330
www.artrix.co.uk

Wednesday April 23
8:00 PM Show (Doors open 7:30 PM)
Ropetackle Centre
Shoreham-By-Sea
West Sussex
BN43 5EG
Box Office: 01273 464440
www.ropetacklecentre.co.uk

Thursday April 24
8:30 PM Show (Doors open 7:00 PM)
Green Note
(located in Camden Town, London)
(less than 5 mins walk from Camden Town tube station)
106 Parkway
London
NW1 7AN
Phone: 020 7485 9899
www.greennote.co.uk

Friday April 25
8:00 PM Show (Doors open 7:30 PM)
Chapel Arts Centre
Bath UK
BA1 1QR
Phone: 01225 461700
www.chapelarts.org

Saturday April 26
8:00 PM Show (doors open 7:15 PM)
The Village Hall
Vernon Crescent
(off A60 between Nottingham & Mansfield)
Ravenshead, Nottingham
NG15 9BA
Phone: 01623 402891
www.thestetson.info

CONTACT US FOR FUTURE BOOKINGS